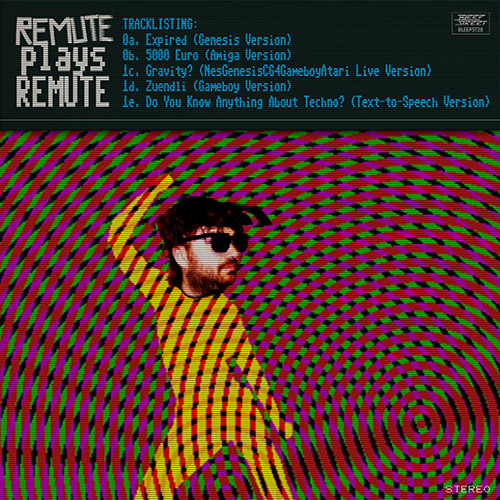 Remute
Remute plays Remute EP
BLEEPST28 - 25.07.2014
Download MP3
iTunes
Google Play
Bandcamp


Download WAV
Beatport

01. Expired (Genesis Version) 4:35
02. 5000 Euro (Amiga Version) 3:03
03. Gravity? (NesGenesisC64GameboyAtari Live Version) 4:05
04. Zuendli (Gameboy Version) 3:03
05. Do You Know Anything About Techno? (Text to Speech Version) 1:05
Our latest reference for the Bleepstreet catalogue is a Cover EP by Remute that presents some of his biggest hit songs re-recorded with Oldschool Computers and Consoles.
Included on this EP are "Expired" recorded on the Sega Megadrive, stomach "5000 Euro" the Amiga version (including .mod file), stuff "Gravity?" as a live version with 5 different soundchips, the incendiary "Zuendli" as a gameboy version and last a text-to-speech message from Remute.
If you know anything about Techno we are sure you will pack this release!